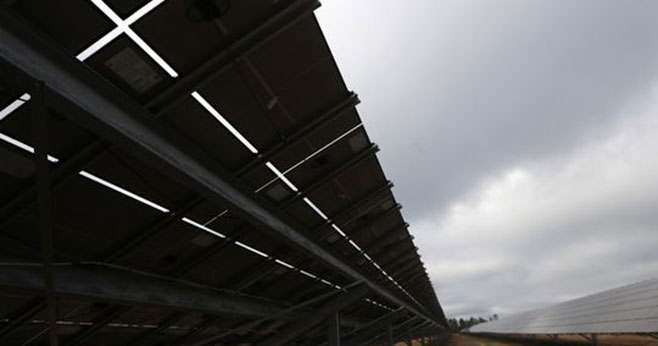 Jeffrey Schweers, Senior Writer, Tallahassee Democrat.  President Trump's announcement this week to place a 30 percent tariff on foreign-made solar cells and modules imported to the U.S. won't impact the cost of building a second solar farm for Tallahassee's electric utility customers.
"We first heard about the possibility of a tariff back in July or August of last year," said David Byrne, electric utility general manager for the city.
The tariff was imposed to protect domestic producers of solar cells and modules from vastly cheaper foreign products, especially from companies in China that were heavily subsidized by the government.
Imports grew by about 500 percent from 2012 to 2016, according to a White House fact sheet, and prices fell by 60 percent, leading most U.S. producers to stop production and move their factories to other countries or declare bankruptcy.
Knowing the tariff was coming, city utility administrators reached out to Origis Energy USA, the Miami-based company hired by the city to build its first solar farm. The 20-megawatt facility on 120 acres of Tallahassee International Airport land south of the runways will generate 37 million kilowatts of power or about 2 percent of the city's power supply.
Origis was in negotiations with the city to build a second and larger 40-watt farm on land west of the runways when the tariff was first floated.
Origis bought panels from the first farm from First Solar, another U.S. company. They said they'd prepared for the eventuality of a tariff by securing an additional order of U.S. manufactured solar panels from the same company ahead of time, said Johan Vanhee, Origis managing director for operations and business.
"We have indeed secured about 595 MW of tariff risk free solar panels … and hence the recent tariff decision by the Trump administration will not impact the economics nor timing of the Tallahassee phase II project and hence the rate of the City's rate payers and Solar Program subscibers," Vanhee said.
The city's first solar farm went online Jan. 1, generating enough power for 3,400 homes.
Credit: http://www.tallahassee.com/story/news/2018/01/25/trumps-solar-tariff-wont-affect-price-tallahassees-second-solar-farm/1062665001/
The second farm is still awaiting FAA approval for a glare analysis, Byrne said.
"We have had to look at a couple of scenarios or layouts," he said. "When we get approval and I believe we will because it will meet their criteria, then we will be ready to complete the contract with Origis and go forward."
The city anticipates completion of the project by the end of 2019. It will generate an additional 100 million kilowatts of power for about 7,000 homes.